Neltex to Showcase PVC & PPR products as Value Engineering Solution at the 26th PhilConstruct Manila 2015

October 08, 2015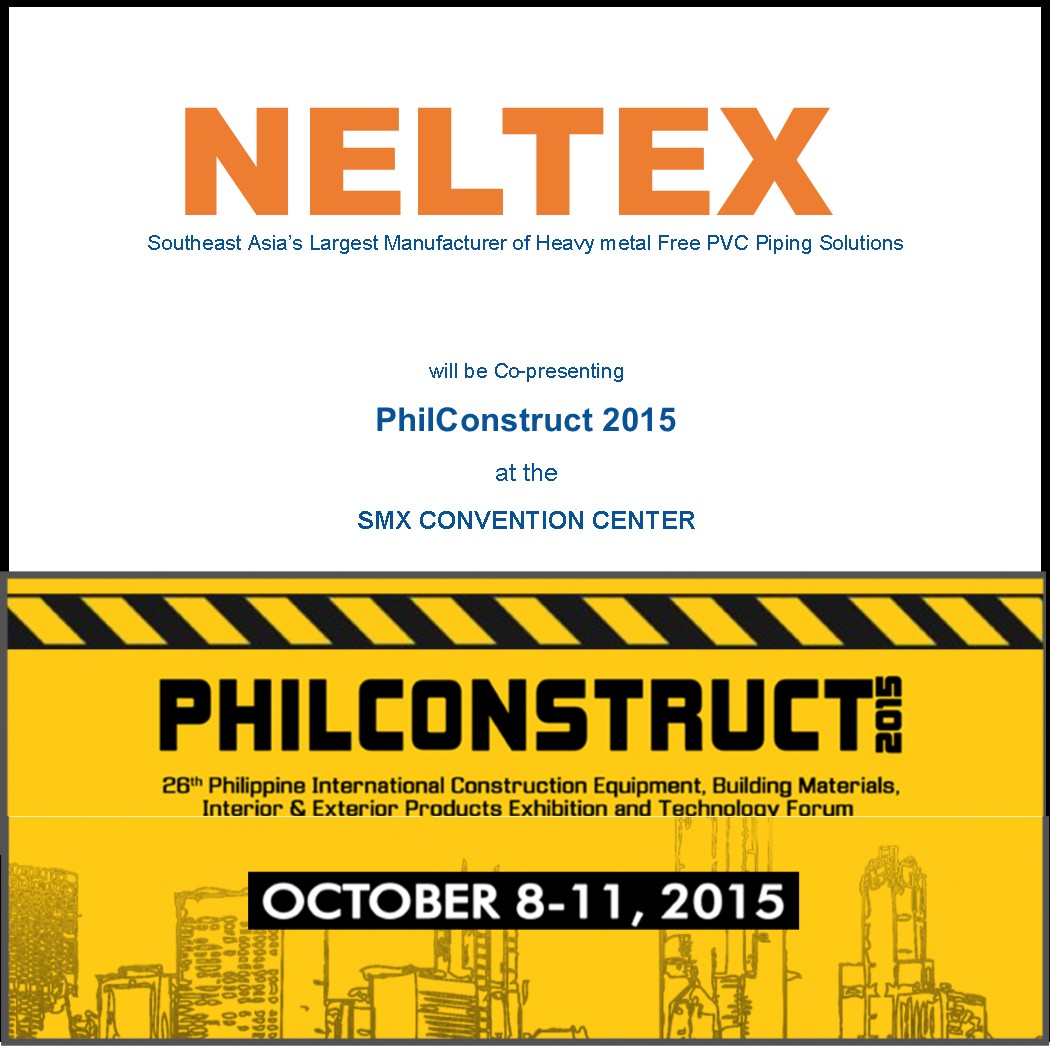 Neltex, the country's leading PVC manufacturing company, will be co-presenting the 2016 Philconstruct 2015 Manila leg at the SMX Convention Center this October 8 to 11, 2015. Known to many as "the largest building and construction expo in the country where the landscape of the country's construction industry is defined," this year's PhilConstruct was chosen by Neltex to be a fitting platform for them to showcase how their heavy metal-free pipes can be a value-engineering solution for water, plumbing, and electrical systems.
"Neltex's booth is themed 'Pipe lining Sustainability' in which we feature how our heavy-metal free PVC and PPR products can be a wise alternative to other more traditional materials to build more cost-effective, efficient, and sustainable systems," says Ms. Angela dela Vega from Neltex's Brand Marketing group.
Among the first things one will notice upon checking Neltex's booth is the huge "HMF-CERTIFIED" seal denoting that Neltex products are free from heavy metals, mercury, lead, cadmium, and arsenic. Ms. Dela Vega notes that this is a key differentiator for Neltex as this guarantees that all their products are eco-friendly and safe for human use.
The Neltex booth will also be featuring electrical conduit pipes with machine-installed rubber gaskets may be used for underground power systems, Sewerguard 500mm pipes and inspection chambers for effective flood control, sewer pipes with rubber gaskets as cost-effective alternative to steel and HDPE soil stacks, as well as blue and PPR pipes for efficient potable water systems.
Attendees may check the Neltex booth number R-15 at the PhilConstruct Manila, from 10:00 AM to 7:00 PM.
Great news! Sharing this news could also win you P5,000 CASH! Click on!
To join our
LIKE, SHARE, & WIN
P5,000 CASH
Raffle contest, Click
here